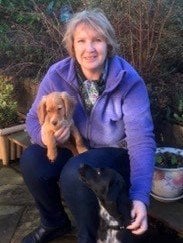 Jo Churlish
In August 2020, I celebrated 40 years of working professionally with dogs, cats, horses and other animal species, including 21 years of specialising in Companion Animal Behaviour and Training! There are many different training methods in use today and, as a result, new and imaginative ideas are emerging all of the time. I promote only kind, positive methods, and through literature and recognised educational courses, I constantly update my skills, knowledge, and awareness of animal behaviour and training. By sharing this knowledge, I can offer you and your companion animal a great foundation for building a long and happy relationship.


Classes are both fun and informative and will cover all the relevant exercises to get you and your dog off to a flying start. Each lesson is approximately 45 minutes, and family members are welcome to come along and join in. There are a small number of dogs in each class so early booking is essential. Classes are at Bowburn and Brancepeth. New courses are starting in September 2022!
If you are having problems with your puppy or adult dog there are various options for you!
Click HERE for more details about classes and behavioural support!
For dogs that are barking at people, dogs or other animals, ignoring you out on walks, becoming anxious easily, afraid of noises, scared or sick in the car, pulling on the lead, worried about being left home alone, feeling the effects of old age or sickness or finding it difficult to listen to you and focus. This is an interactive online course that includes Tellington TTouch, ACE Free Work, detailed observations, and relevant Behaviour and Training Advice. and Support.
See what owners say about my Calm Dog Course here.
Tellington TTouch Method - for Dogs, Horses, Cats and Small Pets
Developed over 40 years ago by Linda Tellington -Jones, This is an amazing method that uses simple and very effective techniques to build calmness, confidence, self-control, and general wellbeing in all animals. It is used widely around the world by both pet owners and pet professionals, and includes gentle bodywork, loose lead walking exercises, and some specific TTouch equipment and is great for all animals (and their people). It is very useful for many behavioural problems, and is particularly helpful for anxious behaviour and reactivity issues. There are options for 1-1 online or in-person sessions, group online courses and in-person workshops.


ACE - online group courses.
Developed by
Sarah Fisher at Tilley Farm. This is a great way to learn why dogs (and other animals) react the way they do, and includes detailed observations, free work, and a series of activities to help your pet want to engage with you. It is very useful for many behavioural issues, and is particularly valuable when working with reactive dogs.